Welcome to the UEIL
Led by Prof. Elisa Konofagou, the Ultrasound and Elasticity Imaging Laboratory works on developing novel, ultrasound-based techniques for both imaging and therapeutic applications. Some of the ongoing research in the UEIL includes:
Enabling targeted drug delivery to the brain by opening the blood-brain barrier with focused ultrasound.

Mapping the mechanical and electromechanical properties of the heart using myocardial elastography and electromechanical wave imaging.

Monitoring High-Intensity Focused Ultrasound (HIFU) ablation therapy with harmonic motion imaging.

Using pulse wave imaging to quantify the stiffness of the arterial wall and assess the likelihood of an aneurysm rupturing.

Modulating neural activity in the central and peripheral nervous system through high-intensity focused ultrasound.
The UEIL is located in the Columbia University Medical Center at the New York Presbyterian Hospital and is part of the Department of Biomedical Engineering at Columbia University. If you have any additional inquiries, or if you would be interested in collaborating with our laboratory, please feel free to contact us.
Latest Lab Events and Celebrations
Image Carousel with 5 slides
A carousel is a rotating set of images. Use the previous and next buttons to change the displayed slide
Slide 1: Recent and Soon-to-be Alumni Farewell

Slide 2: Annual Lab Outing

Slide 3: Halloween costume contest

Slide 4: 2022 Commencement

Slide 5: Grigorios phd defense celebration! Congrats doc!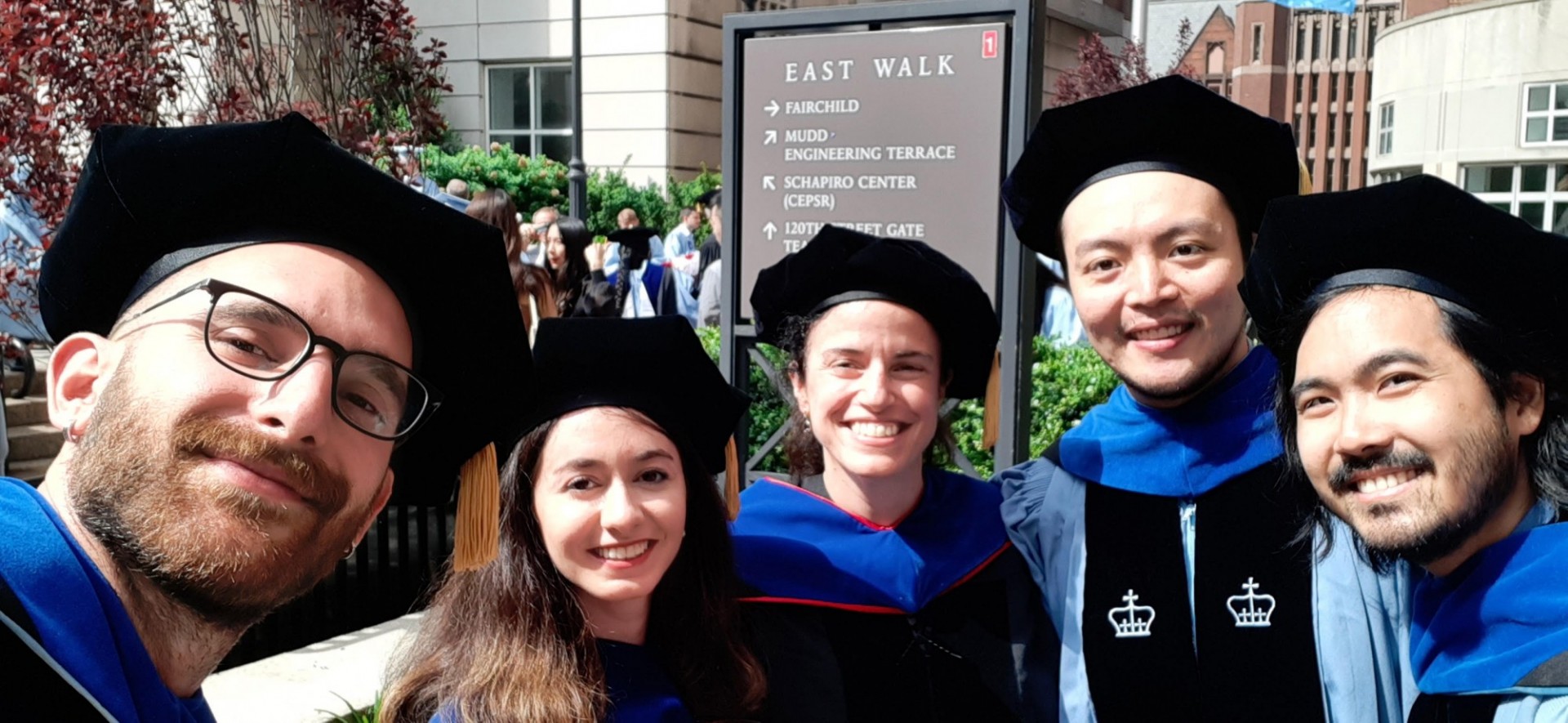 Previous
Next
October 17, 2022
UEIL was well represented at IUS 2022 in Venice, with a total of 19 contributions (9 lectures and 10 posters). Special shout-out for Alina, who was nominated for the Student Paper Award with her talk about "Focussed-Ultrasound Blood-Brain-Barrier Opening Promotes Neuroprotective Disease-Associated Microglia". Furthermore, shout-out to Melina Tourni, who made the conference highlights with her lecture "Electromechanical Cycle Length Mapping for Atrial Arrhytmia Detection and Treatment Success Assessment".
May 17, 2022
Congratulations to Niloufar Saharkiz, Stephen Lee, Robin Ji and Grigorios Mario Karageorgos for receiving their PhD as Class of 2022!  An amazing achievement! 
September 02, 2021
UEIL Associate Researcher Antonios Pouliopoulos was interviewed by Columbia BME about his research projects in the lab, his high school student mentorship work, and his future plans in academia. Antonios has been an invaluable member of the lab for several years, and he will be soon starting a new role as an assistant professor at King's College London. Congratulations Antonios on the well-deserved professorship; we miss you already!
Read the full interview here.